No, this isn't about a way to take your gorilla out for a ride (though if he want to go out for a ride you should absolutely take him...or else). This is about the poly dump cart, made by a company named "Gorilla", that I bought months ago for various uses around the property. While this isn't a hunting gear subject, I opted to interpret the "General gear" part of the forum name literally and review something that I though might be of interest to some here. Besides, it's not like the forum is being inundated with posts and we need to keep things on the straight-and-narrow lest we drown in off-topic meanderings. Anywho...
When we moved into the new place I quickly realized that I needed some sort of wheeled conveyance for several types of stuff. For instance hauling the former contents of the chicken coops back to the compost pile after their weekly cleaning, transporting heavy items from point A to point B without wrecking my back, moving dirt away from a freshly dug grav....er...hole, etc. After performing my due diligence on the matter I went with the GCG-12 (12 cu ft capacity) poly dump cart from Gorilla:
[URL="https://gorillamade.com/product/gcg-12/"]https://gorillamade.com/product/gcg-12/[/URL]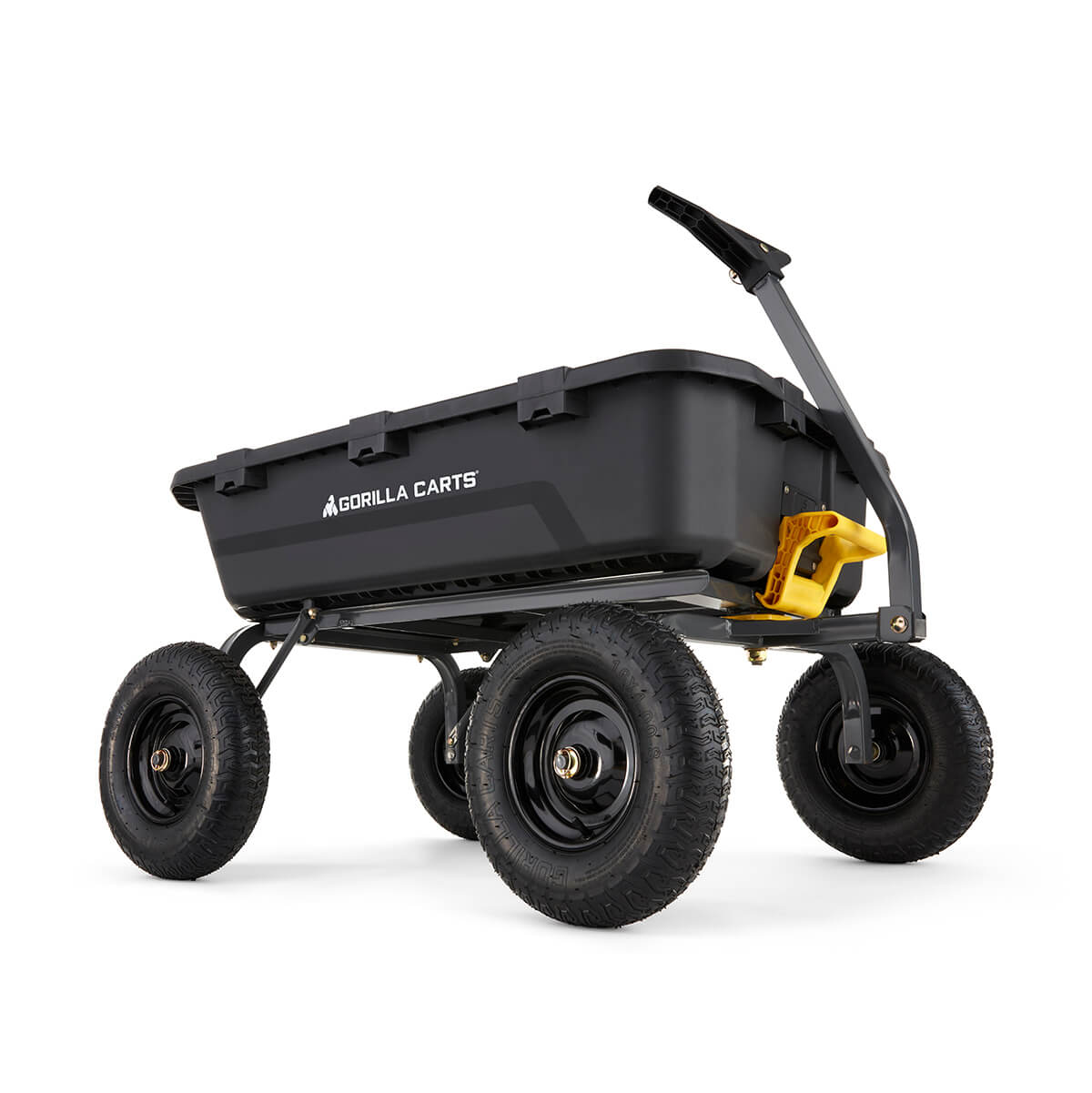 This was based on a combination of factors, including the product line's reputation, the value I thought I would get from it, the good price I was able to find it at from a local Tractor Supply store and...not unimportantly...the fact that I was able to find one in stock there (this was when so many things were in even shorter supply than they are now). I've now owned and used the thing for a little over 7 months, and couldn't be more pleased with it. It is solidly built and well designed, with a few particularly well thought-out features. For instance, the handle is held in place with by a linch pin, the removal of which allows the handle to slide up the shaft of the handle. This keeps the handle securely on that shaft while allowing you to use the hole the pin was in, and the pin itself as a way to connect the cart to a Clevis hitch, which I have on the towing attachment for my tractor. I use that combo to haul the cart back to the compost pile in the back pasture whenever the small suburban-type barrel composter I have gets filled up with stuff from the coops and kitchen scraps. Also, the dumping mechanism is not only ridiculously easy to use, it tips the bucket nearly upside-down, making complete emptying a breeze. And I particularly like the fact that the front wheels have something like a 270° turning arc, which allows you to turn the thing around damned near in-place. Oh, and while I don't anticipate having to replace any of the wheels anytime soon they even made that trivial to accomplish, as they're also held on the axles by linch pins, so you don't even need any tools to replace a wheel.
The pneumatic tires make rolling over hard or soft ground about as smoot as could be expected absent a suspension system of some kind, and the wheel base and ground clearance are both more than ample. I've pulled the thing at full speed with my tractor with it not coming even close to tipping over or any other issues.
In short, I really, really like this thing and can't recommend it enough. They have a fairly extensive line of various capacities, materials and general design so there's a very good chance that they have something that fits your purpose...assuming your purpose is to haul stuff around your home rather than any commercial uses (though they have stuff that would be good for some professional needs as well).