I had another great week in Canada bear hunting this year. Started out on May 12 with my arrival in Saskatoon. We were picked up by Craig & Tim Lapierre of South Bay Outfitters. I hunted with them last year and got a nice P&Y black boar. After a 3 1/2 hour drive north, we arrived at camp. They have a 500 sq mile concession surrounding Weyakwin Lake just south of Laronge. I was hunting with my friend and camera man Scott F. This would be his first ever bear hunt. Generally , we hunt afternoons only. Since it doesnt get dark until almost 10pm , this allows us to sleep in and prepare for the day. This year i was after a color phase bear. This concession has a high percentage of color bears. Every year 30-40% of the bears they kill are colors. Scott wanted a jet black, so it was set to work out great seeing as how we were hunting together each day. Day 1 , we headed to the woods around 2pm. The guides usually rebait the site daily when the hunters are dropped off. Shortly after the quad left we had bears coming in. This site had a super nice Blonde hitting it according to trail cam pics. After about two hours it showed up. I watched it a long time. Even though i was dying to shoot it, I passed on the shot. He was a nice boar but still very young. I didnt want to kill it just because it had color. There were bigger bears on other baits we had plans to hunt. As you can see, he was dead to rights! LOL
[URL=http://s1137.photobucket.com/user/kenholl1/media/IMG_20130513_182528_zps5fa390c7.jpg.html]
[/URL]
Day two was uneventful as a couple of sows hit the baits. We were hunting near a creek off an old cut.
[URL=http://s1137.photobucket.com/user/kenholl1/media/IMG_20130514_164246_zpse86a794a.jpg.html]

[/URL]
Day 3, we changed areas to a spot that a big cinnamon and a black boars were coming in . They were mostly nocturnal but at least they were there. Two sows stayed at the bait most all evening. Just before dark a black boar came in. Scott watched him for a bit and decided he wanted to shoot it ,if the opportunity presented. He was able to get a great shot in about 30 minutes before dark. A very nice Black!
[URL=http://s1137.photobucket.com/user/kenholl1/media/IMG_20130516_124551_zps9166ad0e.jpg.html]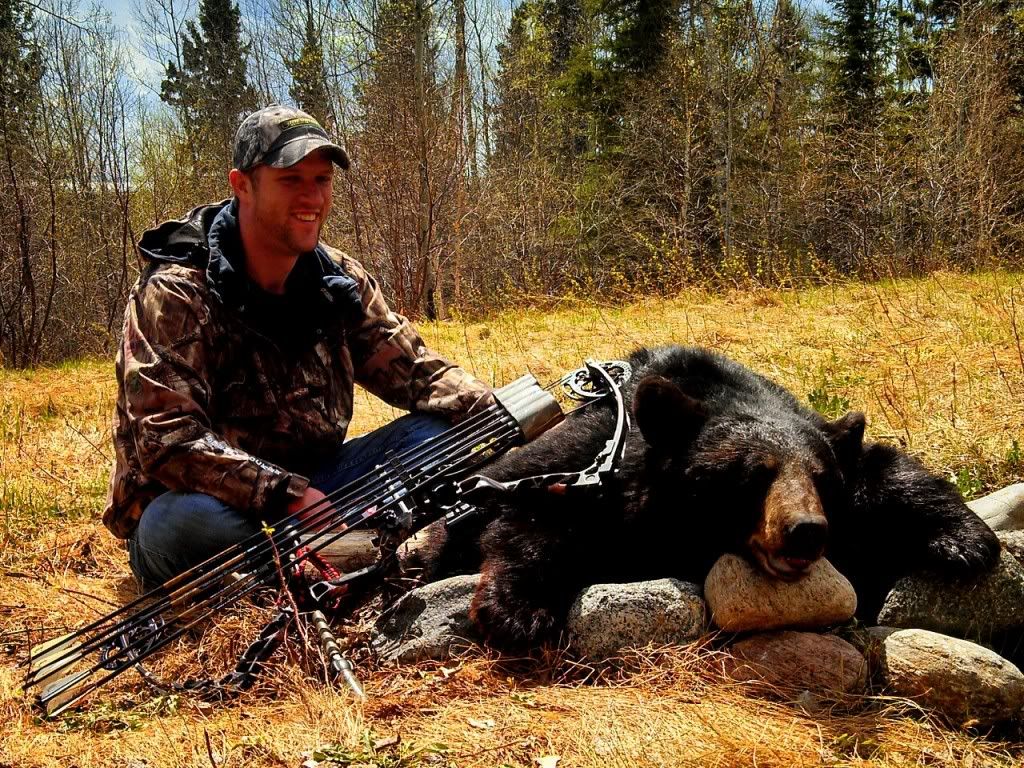 [/URL]
A great view at this stand site as well!
[URL=http://s1137.photobucket.com/user/kenholl1/media/IMG_20130517_165132_zpsdaa7c9c6.jpg.html]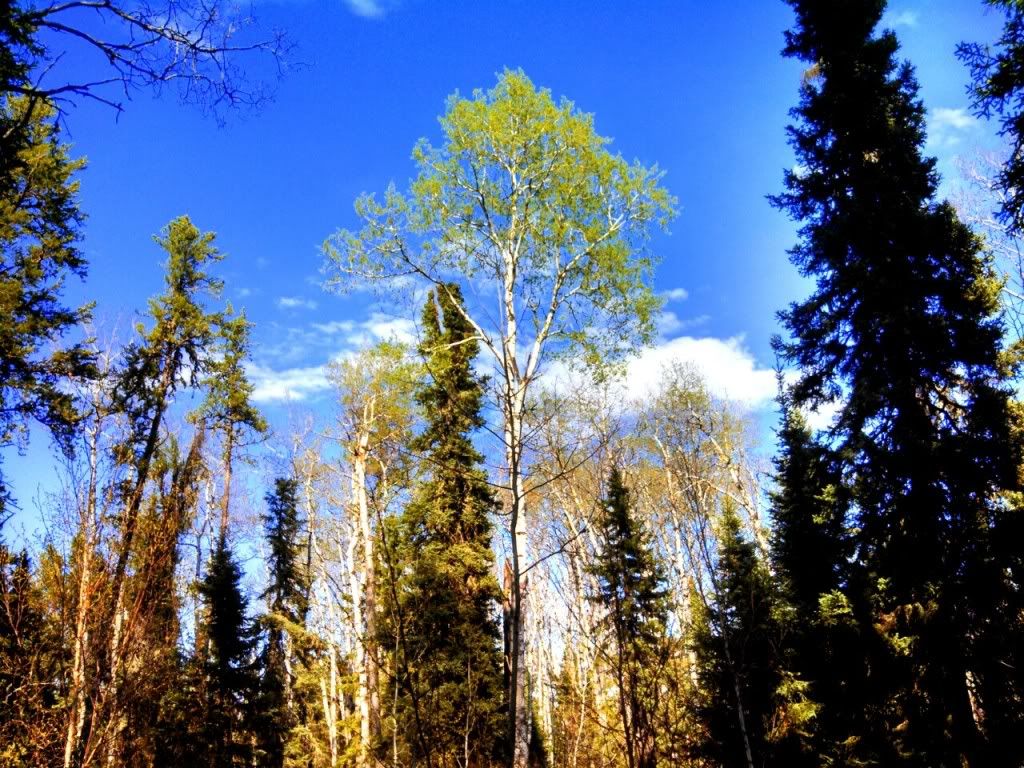 [/URL]
Days 4-5 we hunted a possible B&C monster. He was one of the biggest blacks id ever seen a pic of. The first pic of him was in daylight, after that he was 100% nocturnal. As he was the only bear on that bait, we saw no other bears those days. Generally, those giants are loners and all the other bears give them plenty of clearance.
We got the pleasure of seeing the northern lights the night of day 5. An awesome sight and a good sign of things to come!
[URL=http://s1137.photobucket.com/user/kenholl1/media/jess_zps8fc87b59.jpg.html]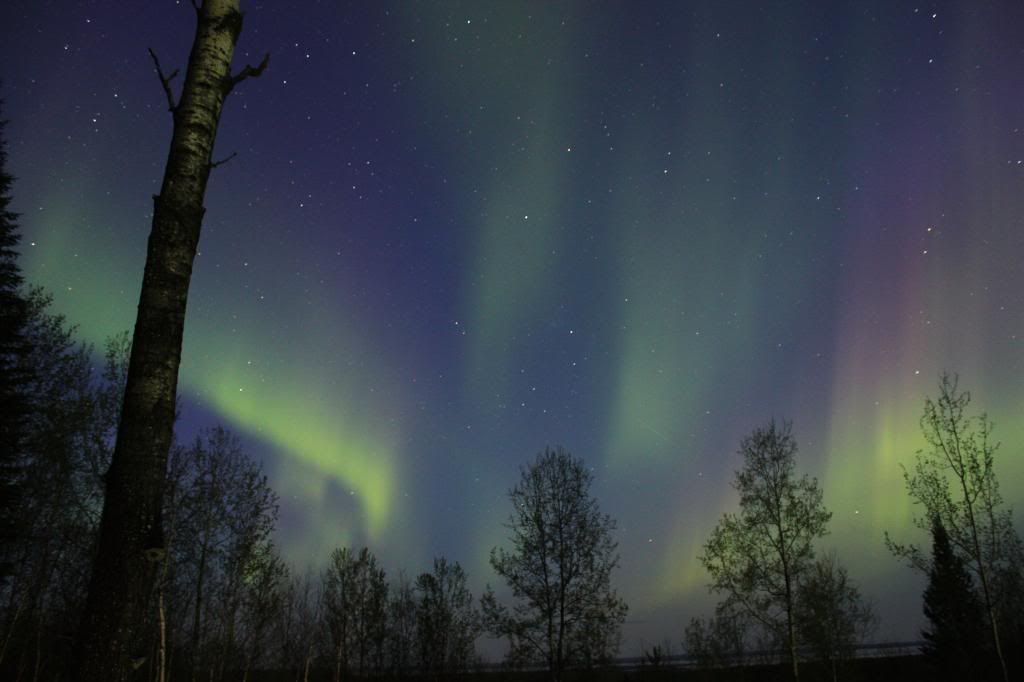 [/URL]
On our last day, we decided to get out at 6am for an all day sit and the spot where the cinnamon had been coming in. After 13 hours, a sow came to the bait. We watched here about an hour before she rolled out. Nearing dark, i was about to concede not getting a bear when i looked up and saw the big black boar coming in fast. I told Scott and grabbed my bow. He circled the bait at the last minute and held up in cover at 20 yards. After what seemed forever waiting, i glanced to my right and was shocked to see the giant Cinnamon standing in the wide open at 25 yards. He was watching the boar. He snapped his teeth a couple of times trying to run off the other bear. I freaked out for a second and scrambled to get in shot position. He started past the steel meat barrel, as i was at full draw. I double lunged him on the shot, at 15 YARDS. The arrow went thru him and into the drum. It made a loud "GONG" as it did. Sounded super cool on the video.LOL. He only went 35 yards and piled up. Not much of a death moan, but we knew he was done. Ended up close to B&C, with a 19.5" skull and 6 1/2ft nose to tail measurement. He has cinnamon fur with chocolate legs. Also has a blonde streak down his back. Since ill probably never see a bear like this again, im doing a full body mount. Shot it with a Ramcat broadhead. Its worth noting the tip of the head only had a slight dent after going into the drum. The blades werent damaged as the didnt penetrate it completely. One of my most exciting hunts!
[URL=http://s1137.photobucket.com/user/kenholl1/media/kennybear4_zpscf420f5c.jpg.html]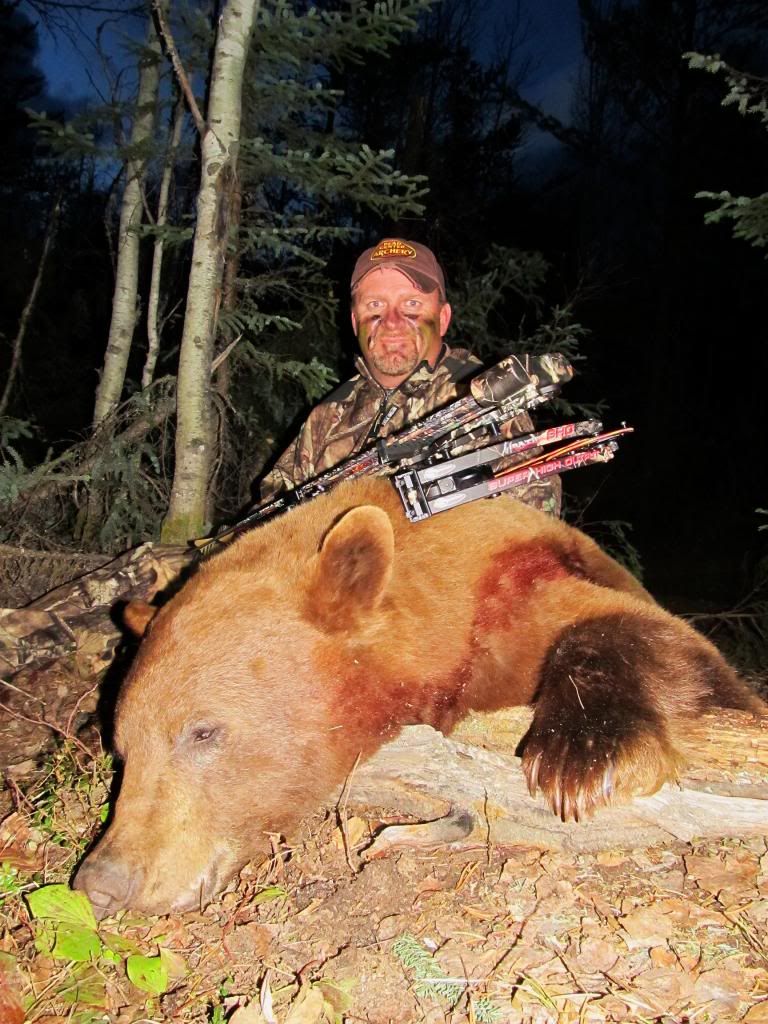 [/URL]
Very Awesome... Congratulations.
Great pics and congradulations to each of you.

Most EXCELLENT:tu:
Great looking bears. Congrats.