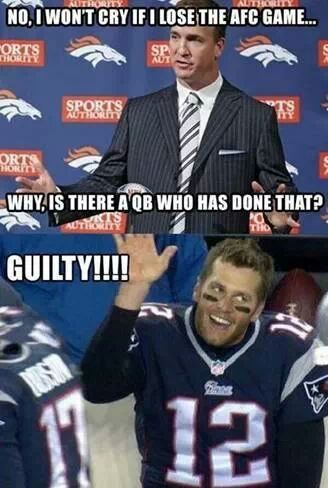 :laugh::laugh::laugh:
ONE MORE REASON TO FIGURE YOU AS A DH. :td:
[url]http://www.fathead.com/nfl/denver-broncos/peyton-manning-home-wall-graphic/[/url]
Crookedeye!!!! Everyone knows Peyton Manning is a fathead.

Well, obviously, almost everyone.
I got Denver today and seattle..I don't like the 49er's qb.. he's to much of a gangster..if it wasn't for my bad ankles I would kick his azz..:wave:
That's right CE! U got class!

Broncos 10-0 2qtr!

I got the Hawks later as well.
can we all say now that peyton manning is the best quarterback of all time.. hell of a game.
Denver just took New England to school.
Seattle game should be really good.
Peyton was relentless and the Denver defense got lucky with Brady overthrowing wide open receivers. How is it Denver still cant cover the deep ball after last years fiasco? SF couldn't get any momentum, and Seattle has a swarming defense. Kaepernick's legs were the only thing that kept it close. The better teams won.

Going to make for an interesting Super Bowl. Seattle has the better defense, but Denver has the more experienced players. Denver by 3.
The Greatest Cornerback in the World will save the day.

Seriously, ask him.
I got Denver as well. Not a seahawks fan, but even less of a niners fan. worked out as predicted. CE nailed it!:tu: