...Asian kids are kicking other kids' asses academically, this is why: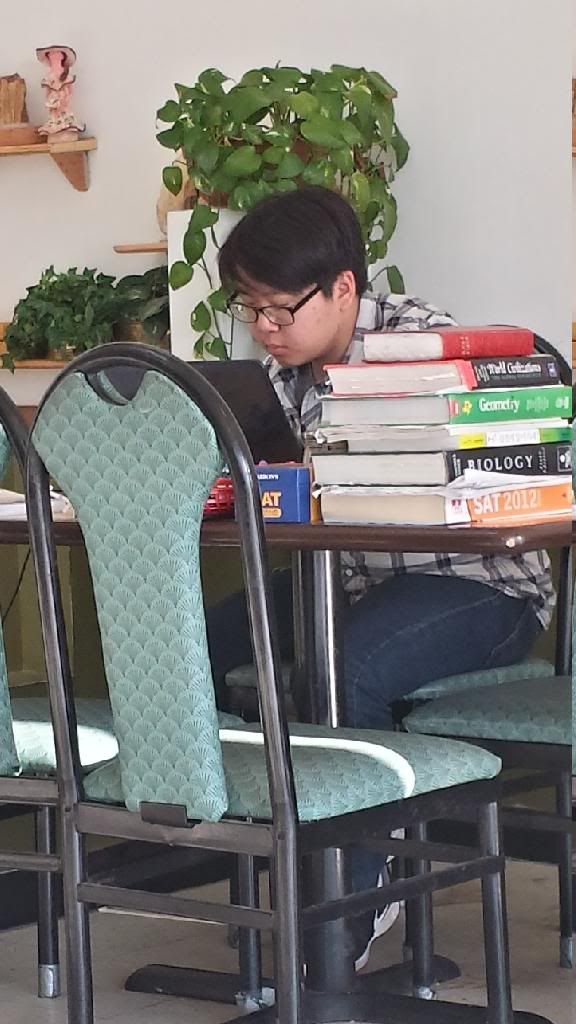 This is the son of the owner of the little Chinese carry-out joint down the street from my house. I pop in there whenever I need to get my lo mein or mu shu pork fix (OK, tonight it was shrimp egg foo yung) and I see this every time I'm there. He works there part-time too. Not pictured is his trombone case that was sitting on the seat near where I was sitting waiting for my food.
Yeah, but I bet he sucks at dodgeball. Just sayin.
[QUOTE=bluecat;18301]Yeah, but I bet he sucks at dodgeball. Just sayin.[/QUOTE]

Probably...though I don't think that will matter much when he's running/owning the company making the sporting goods equipment.
Americans kids go into politics
They have the same chairs in at least three of the Chinese restaurants around here, LOL.

Standardization: one of the formidable pillars of life since the Industrial Revolution. Pioneered by Americans, abused by everyone, LOL.

Way back when I lived in a neighborhood, I couldn't believe how most of the kids were getting on and off the bus with no books at all. (This was pre-pervasive internet and student laptops, BTW) That's not what life was like for me.

All I can tell this kid is if he think's he's hot stuff now, wait til he hits calculus. Then we'll see what he's made of, LOL...
I theorized he was perusing the WebMD site looking for suggestions on treatment for the hernia he got lugging those textbooks around.
LOL...
The kid is prolly 27years old